WAYNE NATIONAL FOREST
OVERNIGHT ACCOMMODATIONS
1. Burr Oak Cove Campground: This campground offers 19 sites for tent and RV camping, with amenities like picnic tables, grills, drinking water and vault toilets.

2. Leith Run Recreation Area: Located on the Ohio River bank offering both campsites as well as day-use facilities including a boat ramp.

3. Iron Ridge Campground: A family-friendly campsite located in the Ironton Ranger District of Wayne National Forest featuring single-family campsites along with group reservation sites.

4. Lake Vesuvius Recreation Area - Oak Hill & Two Points Group Campgrounds : These are two separate areas within Lake Vesuvius that offer multiple individual or group camping options near fishing spots and hiking trails

5. Stone Church Horse Trailhead Camping Site – It is designed specifically to accommodate horse riders but also welcomes hikers who want to explore more than 50 miles of designated horse riding trail system.

6.Wildcat Hollow Hiking Trail- Offers primitive backpacking style camping opportunities along its length which winds through some beautiful forested sections of Wayne National Forest

7.Timbre Ridge Lake Recreational area– Provides access to boating activities alongside traditional tent/RV based accommodation spaces

8.Hocking Hills State Park (adjacent): Although not technically part of Wayne national park it's close proximity makes it an attractive option especially if you're interested in exploring unique rock formations/ caves etc., they provide cabins rentals apart from regular tents /RV hookups

Please check ahead about any specific rules/restrictions related each site before planning your trip!
Conference Center
Hello I am the marketing coordinator for the Hocking Hills Lodge Conference Center. There is incorrect information on your website about our lodge, how would we go about changing that or providing
15.4 miles from park*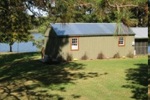 Cottages and Cabins
A lakeside retreat in the beautiful Hocking Hills on scenic Lake Logan. Full kitchen, Hot Tub, Satellite HD TV, sitting room, breakfast nook, and electric AC/Heat.
18.1 miles from park*